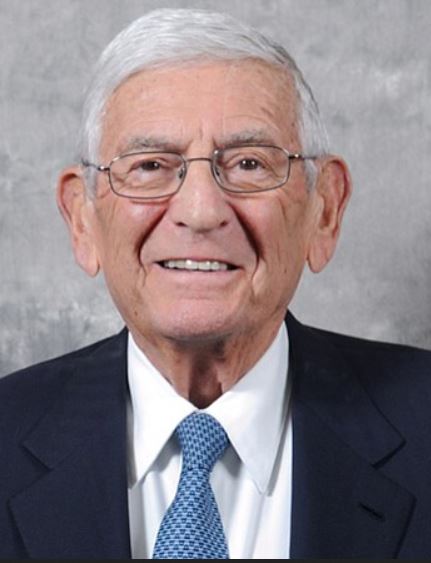 Eli Broad
Eli Broad is a renowned business leader who is the only person to have built two Fortune 500 companies in two different industries from the ground up. Over his six-decade career in business, he founded and grew both SunAmerica Inc. and KB Home. Forbes ranked Broad the 65th wealthiest person in the world, with an estimated net worth of $7.4 billion.

Broad attended Michigan State University, majoring in accounting with a minor in economics and graduating cum laude in 1954. Among the jobs Broad held in college were selling women's shoes, selling garbage disposals door-to-door, and working as a drill press operator at Packard Motor, where he was a member of United Auto Workers.

Broad became the youngest Michigan resident to attain the credentials of Certified Public Accountant (CPA), a record he held until 2010. Broad worked as an accountant for two years and taught night classes at the Detroit Institute of Technology as an assistant professor of accounting in 1956. Wanting to work on his own, he founded his own accounting firm and was offered office space by Donald Bruce Kaufman, Doing the accounting for Kaufman's small business led Broad to decide to enter homebuilding himself. In 1956, Broad and Kaufman decided to partner and build homes together. In 1961, Kaufman and Broad Home Corporation (now KB Home) went public on the American Stock Exchange.

In 1971, Broad acquired Sun Life Insurance Company of America, a family-owned insurance company founded in Baltimore in 1890, for $52 million. Broad transformed Sun Life into the retirement savings powerhouse SunAmerica. In 1999, he sold SunAmerica to the American International Group (AIG) for $18 billion. Broad continued as CEO of SunAmerica until 1999, when he left to focus on philanthropy full-time.

In 2012, Broad's first book, The Art of Being Unreasonable: Lessons in Unconventional Thinking, was published by Wiley and Sons and debuted as a New York Times, Wall Street Journal, USA Today, and Washington Post bestseller.
List of Books by Eli Broad