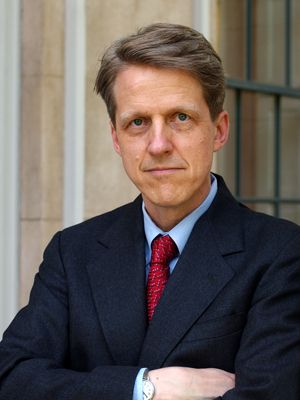 Robert J. Shiller
Robert James Shiller is an American Nobel Laureate, economist, academic, and best-selling author. He currently serves as a Sterling Professor of Economics at Yale University and is a fellow at the Yale School of Management's International Center for Finance.

Shiller has been a research associate of the National Bureau of Economic Research (NBER) since 1980, was vice president of the American Economic Association in 2005, and president of the Eastern Economic Association for 2006–2007. He is also the co‑founder and chief economist of the investment management firm MacroMarkets LLC.

Shiller's work included survey research that asked investors and stock traders what motivated them to make trades; the results further bolstered his hypothesis that these decisions are often driven by emotion instead of rational calculation. Much of this survey data has been gathered continuously since 1989

Shiller was ranked by the IDEAS RePEc publications monitor in 2008 as among the 100 most influential economists of the world. Eugene Fama, Lars Peter Hansen and Shiller jointly received the 2013 Nobel Memorial Prize in Economic Sciences, "for their empirical analysis of asset prices"
List of Books by Robert J. Shiller