Forex trading is one of the most popular concepts of the modern world. It has often seen that many new beginners, young people, and equity traders are taking interest in the forex trading. Many success stories have published telling the success of young people making millions in currency trading. As a result, it becomes a big motivator to other equity & commodity traders who are started attracting towards the forex market. Now there are different types of participants are participating in the forex market that enters this market with different motives and agendas.
That is why it is important for beginner investors and traders who are planning to enter in this market to be aware of different types of participants and major market players who they likely to come across at some point in future. In this article, we've mentioned some major market players who have heavy involvement in the forex market.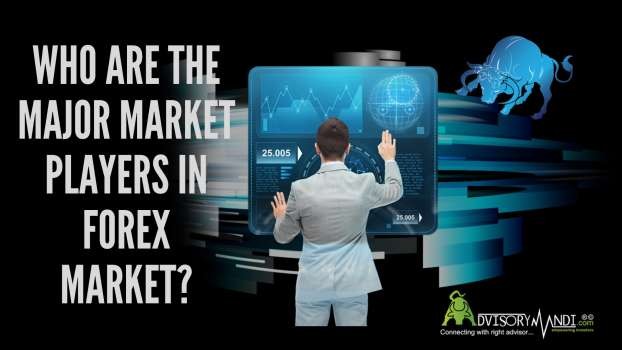 Foreign Exchange Dealers
Foreign dealers or foreign exchange dealers are generally banks who buy from one party and sell it to another party. They make profits by the difference in exchange rates between currencies. By far, the forex dealers are the biggest participants in the forex market.
Most forex dealers are central banks who are one of the top influential players across the global market.
Hedgers
Hedgers are like traders who do not wish to take any risk involved in price movements while trading in the forex market. Hedgers do not wish to take any risk and wish to pass it on to someone who is willing to bear it. To better understand this, let's take an example:
Let's assume a US Company ordered an Indian company to deliver some equipment that they manufacture but supposing that it's a long-term order so most of the payment has to be made a year after. Now that the US Company isn't sure how many rupees will cost year after, so to protect themselves, the company decides to take the opposite position in the market in case if there is an unfavourable movement in the currency price. Even if there is an unexpected major fluctuation, they can nullify the unexpected turn and continue their normal business.
So, hedgers are those traders who hedge themselves by taking the opposite position in the market to not to take a risk from currency trading.
Speculators
Speculators are different types of traders and one of the major participants in the forex market. They have no special interest or genuine requirement for foreign currency, except they only buy or sell these currencies in the hope of making good profits out of it. They make a living out from predicting trends and use that prediction to trade on the fluctuation on currency price to make the quick short-term profits.
Not only individuals but also many hedge funds get involved in speculating the currencies trend and make a trade based on the speculation. However, they deal in large amounts of money and employ some risky strategy to bring big returns.
Arbitrageurs
Forex arbitrageurs are traders who buy and sell the same or essentially similar security simultaneously in two different markets. The reason behind this is to make pure risk-less profits while trading currencies. The arbitrageurs are quite attentive and always look out for opportunities that allow them to make pure profits in buying and selling two securities in two different markets simultaneously.
Hope, the list of major market players we mentioned here will help you in understanding the different participants who trade in the forex market with different motives. If you ever come face-to-face with any such participant, then you gotta be ready as a retail investor since these are the top players who are trading in a market that is over $5 trillion. So, be smart and be confident!