Australian Markets: As per my WD Gann Analysis and Study of Time Cycles, Australian All ordinaries Index (XAO) is going to fall till at least 17 April 2017. To complete the fall of 10% the time might extend till June 2017. My Time Cycles indicate the intensity of fall is going to be severe and the index might fall 5- 15%. I would say it will very easily fall 550- 600 points. The support zone is 5300 to 5220. Which is 10% below the present high of 5880 of Australian Equity Index.
Time Target: Fall will be atleast till 17 April 2017, might extend to June 2017, it 10% fall is not completed by April 2017.
Price Target: The recent retracements have been 10% in XAO (All Ordinaries) and one of the recent fall was 20%, so all the ranges cluster around 10% and 50% of 20% is also 10% so good support lies in the range of 5300 to 5220.
I came across this analysis while teaching a WD Gann Analysis Course to one of my Australian Student, the research was in-depth so I am very sure of my analysis. Please refer to the chart as they are just for educational purpose only.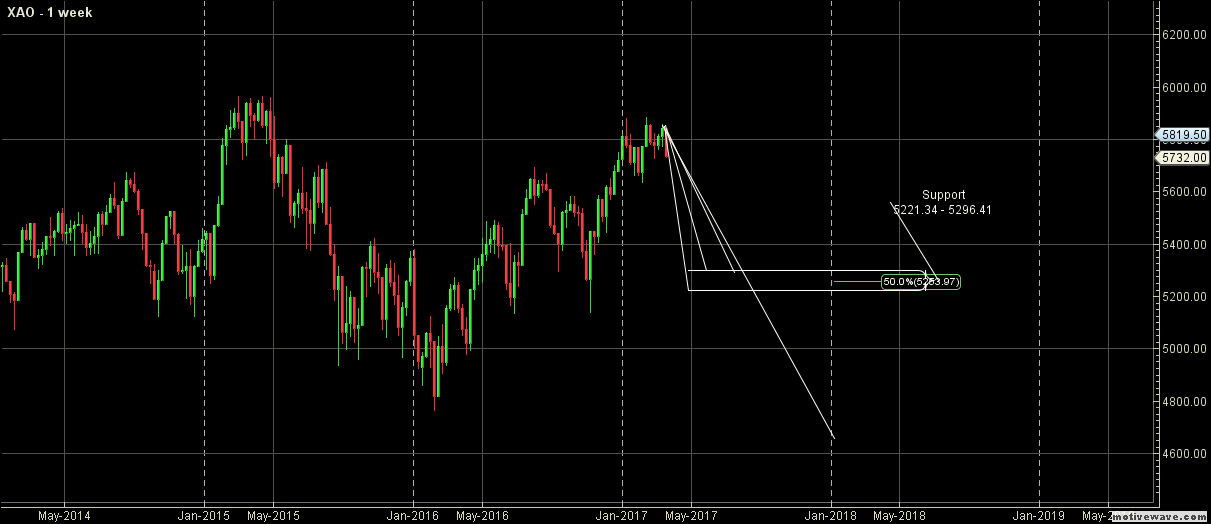 Indian Markets: As per my WD Gann Analysis and Study of Time Cycles, Indian indexes Nifty and Sensex ..... To read the Nifty Analysis Click on WD Gann Analysis on Nifty.