Everybody wishes to become wealthy and have enough money to live life happily. However, only a few succeed to gather the wealth, for rest it seems to be a difficult proposition especially for a working professional who receives a fixed income on a regular basis. In this income, we have bills to pay and manage savings for preparation of retirement or any other financial goal. So, we start saving them – using a bank savings account, fixed deposits (FDs), recurring deposits (RDs), etc.
The thing with these investment options is that they're good at providing fixed income at maturity with lease risk. But, with the increasing inflation, it is nearly impossible to get inflation-adjusted returns in future and build real wealth. Truth is, creating wealth is not a difficult task. It just requires the systematic investment approach that can help you in creating wealth over the years and become financially independent.
The trick is not to save but generate wealth in doing smart investments.
Stock Investing for Wealth Creation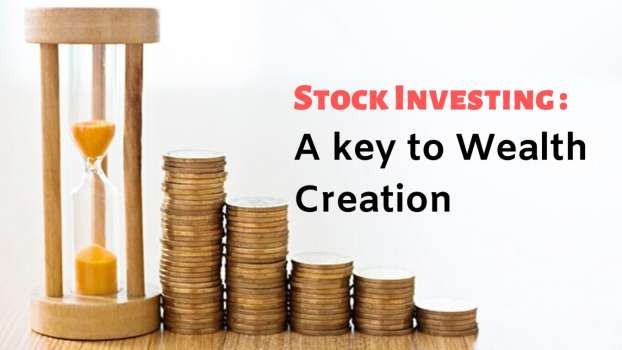 Stock investing is hands down the best investment option available today that can provide high returns, beating inflation, and help you in creating wealth. There is a myth that the stock market is only for rich people. Truth is, anybody can invest in the share market. You can start investing in the cost of a burger. Agreed, the stock is a volatile asset class where the risk of losing money is high. But, it is also true that the domestic stock market managed to give more than returns than FDs and other fixed-income schemes, in the last 2-3 decades. But only when you are invested for a short-term period say '1year' but if you expand your horizon to 5 years or 10 years, the probability of loss will decrease, and invested for 15 or more years, the risk will be negligible.
One can invest in equities through direct equity investments, equity mutual funds, and systematic investment plans (SIPs). In investing directly in equities can bring you high returns however it would require good knowledge of the stock market, finances, and stock trading. It may be less preferable for beginner investors who just started investing. Even that can be managed through wealth building platform and stock advisory using expert stock experts' recommendations to trade in equities, giving you other benefits like liquidity, flexibility, and diversification which aren't possible in investing real-estate and physical gold.
Another way of investing in equities is through equity mutual funds that can spare you the hassle of selecting stocks and managing the portfolio. You'll have an experienced fund manager that can do it all on your behalf. For that, you'll pay a minimal amount but the profits you'll reap will be comparatively high.
In investing through SIPs you can simply put your investment on auto-pilot mode where you will only pay a certain amount on a monthly basis.
Think about this – you want to have Rs. 15 lakh for your children's education in 10 years.  If you have Rs. 5 lakh at present day, assuming an annual return of 12 per cent, at the end of 10 years, you'll have near around Rs. 15 lakh. But, if you were to put the same Rs. 5 lakh in fixed deposit, you'd have made only Rs. 10 lakh (approx.) at 7.5 per cent interest. And these numbers are before tax. In mutual funds, long-term capital gains above Rs. 1 lakh taxed at 10 per cent, while you gain from FDs are taxed as per tax slab. As far as we can see, the mutual funds provide better and tax-efficient returns that are not present in fixed income deposits.
On top of that, you'll have the facility to invest in different mutual funds schemes – balanced, equity-based, debt-based, etc. Also, you can further customize and add stocks in your portfolio based on large-cap, mid-cap, and small-cap funds. Make sure to select the stocks and assets as per your risk tolerance, time horizon, and financial goals.
It is not like the debt funds or other asset classes are not efficient; debt funds can be used for building emergency funds while gold ETFs can be used as a hedge against inflation. But, when it comes to wealth creation, there is no asset class aside from stocks that can help you in wealth creation.