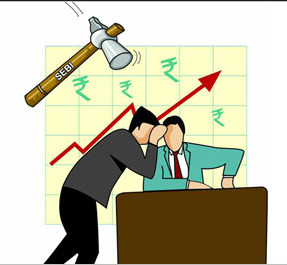 To tackle insider trading menace, a new set of norms is coming into effect from today (15th May 2015).
This norm revamps nearly two-decade old regulations and provides for strict penal action for illicit transactions in shares of listed firms by promoters, key management personnel, their relatives and all connected persons. This new regulation by SEBI is called - "Prohibition of Insider Trading Regulations, 2015."

Under the new framework, the definition of 'Insider' has been expanded to include persons connected on the basis of being in any contractual, fiduciary or employment relationship that allows such people access to Unpublished Price Sensitive Information (UPSI).

A 'connected person' is one who has a connection with the company that is expected to put him in possession of UPSI. The definition will also bring into its ambit persons who may not seemingly occupy any position in a company, but are in regular touch with the company and its officers who are involved in the know of operations.

A connected person would be someone who is or has during the past six months prior to the concerned act has been associated with a company, directly or indirectly.

Immediate relatives of connected persons would also come under the same category unless they prove that they were not privy to unpublished price sensitive information. The onus of establishing that they were not in possession of UPSI would be with the connected persons.

Under the new regulation, listed companies would have to disclose details of securities held by promoters, directors, key management personnel and their relatives and other connected persons, before and after assuming such role.

Besides, the companies will have to formulate and disclose a code of conduct and a code of fair disclosure, comprising the practices and procedures followed for fair disclosure and handling of UPSI. To protect the interest of investors, companies would now be mandatorily required to disclose UPSI at least two days prior to trading in case of permitted communication of such information.

The definition of UPSI has been strengthened by "providing a test to identify price sensitive information, aligning it with listing agreement and providing platform of disclosure". Earlier, the definition of price sensitive information had reference to company only, now it has reference to both a company and securities.

In line with the new Companies Act, prohibition on derivative trading by directors and key managerial personnel on securities of the company has been provided. Disclosure of UPSI to public has been made mandatory before trading, so as to rule out asymmetry of information in the market.

The latest norms have been prepared after taking into consideration recommendations of Sodhi Panel and suggestions from various other quarters.
Click to View Complete Insider trading Regulation by SEBI