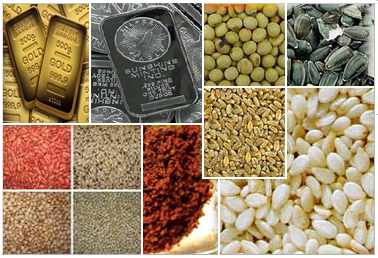 Each and every market is based on on-line basis. Now India taught about the agri products that why the agri commodities are not traded by using on-line system. Than the idea for NCDEX comes for trading with the agri commodities on on-line basis.
The abbreviation of NCDEX is - National Commodity and Derivative Exchange. This is a national level on-line multi commodity exchange of India, which commenced operations on December 15, 2003. This is a public company Ltd. providing superlative commodity exchange stage enabling traders in the commodities market to be part of the extensive range of commodity derivatives.. The Exchange has eight shareholders Canara Bank, CRICIL Limited, ICICI Bank Limited, IFFCO, LIC, NABARD, NSE and PNB. The agricultural commodity traders will benefit by trading in agricultural products by knowing the basics on this exchange and commodities. It is indeed vital to know the way agricultural products are valued.
Origin of the NCDEX Market:
NCDEX stand for National Commodity and Derivative Exchange Ltd. It is an online commodity exchange. The NCDEX commodity exchange is based on India. It is located in Mumbai and has more than 390 centers throughout the India.
NCDEX - It was established on 23 April 2003 and it is a Public Limited Company. NCDEX is regulated by FMC for Future Trading in Commodities. It is located in Mumbai.
Commodities Traded in NCDEX are as follows:-
AGRI Based Commodities - Chana, Chilli, Cofee, Cotton Seed, Crude Palm Oil, Groundnut, Groundnut Expeller Oil, Guar Gum, Guar Seeds, Gur, Jeera, Kidney Beans, Masoor Grain Bold, Staple cotton, Mentha Oil, Mulberry Raw Silk, Mulbery Green Cocoons etc.

BULLION - Gold 1 KG, Gold 100 gm, Silver 30KG, Silver 5 KG.

ENERGY - Brent Crude Oil, Furnance Oil, Light Sweet Crude Oil.

FERROUS METALS - Mild Steel Ingot.

PLASTICS - Polypropylene, Linear Low Density Polyethene, Polyvinyl Chloride.

NON-FERROUS METALS - Aluminium Ingot, Copper Cathode, Nickel Ingot, Zinc Cathode.
Now a days so many software are available for online trading with NCDEX commodities. It is the largest most recognized exchange of India. NCDEX is promoted by ICICI Bank Ltd., LIC, NSE and National Agricultural and Rural Development, Punjab National Bank, CRISIL Ltd., Canara bank and Indian Farmers Fertiliser Cooperative Ltd. They have promoted this exchange by subscribing to the equity shareshave joined the initial promoters as shareholders of the Exchange.
Get more about Commodity Tips here @ Pinnacle Financial Services