Being a parent is a lot of responsibility. You want to do everything you can to secure your kid's future. As a result, you may be asking yourself: How should I invest to secure my kid's future? Well if you're thinking the same thing then don't worry! You're aren't the only one. Every parent wants that their child becomes successful in life. However, it is also important to face the reality. There is no end to work and saving money. When we start earning, our expenses increase with our income. With time, there come taxes – house tax, income tax, and so on. Most people work very hard. But, many of them get trapped in paying bills and chasing paychecks all their life.Many years back, there was a book 'Rich Dad and Poor Dad' by author Robert Kiyosaki who talked about the 'Rat Race' and 'Financial Independence'. From this, we learned that job is a short-term solution to a long-term problem. Although the book comes in the year 2000 the principles are still applicable in today's modern society. And when the kid comes, not only you will have to pay for all that but also ensure you save enough to secure your kid's future.
So, what we do? – We plan our investments to ensure that there are enough funds to secure our Childs' future. Unfortunately, most people failed to plan investments that contribute to their child's future. From inspiring from 'Rich Dad and Poor Dad' and in-depth research, we came up with a few key points that help you plan your investments for your child's benefit.
Let's begin!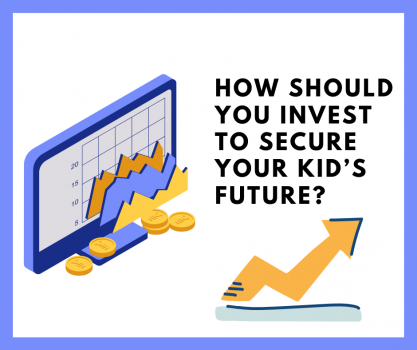 Start Early
Whether you're planning for your child's college education, future retirement, or future expenses, investing early is the best move you will ever make. It has often seen that many parents regret their loan for a child's education. Many of them wish if they could just rewind everything and do things differently. If you're interested in saving for your kid's future – start early!
It seems vague but the early you start; the more you can benefit from the compounding. Having an early start will also benefit you in picking investment options that may carry high risks but have the potential to make significant returns over the longterm. If you're planning to invest a small amount every month, you can begin with SIP equity mutual funds. While you're at it, make sure to check for investment options that can help you with tax-saving.
Remember the proverb, early bird gets the worm. Another benefit for start investing early is that you won't need to spend much time while having a routine job. You will have more time advantage to strategize your investment plans, take more risks, and step ahead of others.
Select the Right Investment Option
Start investing early provide a great deal to your investment plan however having a path is also important to ensure that you are going ahead in the right direction.As a parent, you must choose the right investment option that can bring you potential returns for your child's future. For instance, some people even started saving for their children even before their birth by taking some insurance policies that offer mere yields with no more than 5-6 percent. Yes, the returns will be assured but, with the current rate of inflation, it won't be anywhere near to what you will be needed in the next 15-20 years.
On the other hand, equity mutual funds can help to gain highreturns however it is not everybody's cup of tea. It all depends upon your risk appetite. So, I would recommend you consider the sum of money, duration, risk tolerance, and financial goal before choosing an investment option. Any wrong step and you could lose your hard-earned money in just a few years.
Remember, if you're looking to invest in the long-term for 15-20 years, then it would be wise to include equities in your investment portfolio along with some debt funds so that you can manage the risk and maintain the rate of return throughout the years. But, if you have a time horizon of fewer than five years, you'll need to primarily focus on the fixed deposit incomes such as debt funds, recurring deposits, and PPFs among others. These financial assets may not offer high returns as equity mutual funds or other risky assets but these can sure provide fixed and assured return of capital with mild to the low-interest rate.
Reviewing Investment Portfolio
Once you successfully placed your portfolio, it is time to monitor it at least once a year. You need to analyse which stocks are performing well, which are not. You also need to re-consider the inflation rate estimation from time to time. Track your portfolio with your financial goal to see if it on the right track or not. If you are falling behind, you don't need to make rash decisions like selling immediately. On the contrary, you can increase your fund value so that you won't go out of track.
Finally, rebalance the investment portfolio at the end of each year. That means, to make profits out of outperforming stocks and proceed with the underperforming ones. By doing so, you can mitigate the risk of losing potential profits and can succeed in generating enough wealth from your child's education.So, don't let any downturn jeopardize your investment portfolio and your children's future.