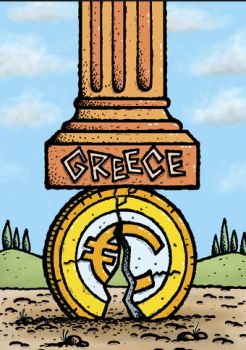 Everyone of us now are hyper aware of "Greek Crisis", almost every one of the expert is dropping "Greek crisis" word at a drop of a hat, as if Alexander is defeated by Porus in 21st century and the media filling up all their airtime on this event!!
Let me take you though the basics of what Greek crisis is and how is it going to affect the Indian Markets.
Greek is a small island nation North of africa, it is a part of EU (European Union) which has a total of 19 countries. (many of them highly in Debt, eg. Italy, Portugal, Cyprus, Spain, France all have near or more than 100% debt to GDP ratio - India by comparison has around 67% debt to GDP ratio)
This is the third episode of Greek loan default crisis, it has happened twice before. In May 2010 $146 billion rescue package was doled out by EU and then again in October 2011 the Banks had agreed to take a 50% loss on the face value of their Greek debt. And now in June 2015 Greece has deferred series of due debt payments until the end of the month.
This whole saga began in 2008 when the wall street bubble exploded and the global financial markets were going into a tailspin, in 2009 Greece announced that it had been understating its deficit figures for years (Basically they were cooking and dishing out their financial figures to keep the ball rolling) this raised global alarm bells and suddenly there was no one to extend fresh loans and the country started to move towards bankruptcy.
Now we all understand that when a country/company/person goes bankrupt two entities suffer, the population of that country and the bankers/FIs who had extended the loans earlier, so in affect everyone is a loser and so all stake holders by default try to salvage whatever they can. Keeping this in mind the I.M.F., the European Central Bank and the European Commission came to bail out Greece with about 240 Billion euros, but these bailouts came with a condition that the Greek govt increase their tax collections by spending less and stricter/increased tax collections.
Greece had no way to disagree, so now with hard tax policies the govt became popular and the Govt was thrown out and new govt. took its place (Off-course the Leftists won the elections).
With new loans in place one would imagine that the crisis was solved, but wait.. not yet.. most of the new loans were used to payback old loans (Remember these are sovereign loans) and on top of it the Greek GDP reduced by around 25% and thus again the vicious cycle of lower collections, higher EMIs and no or little money left to pay Govt Salaries, public expenditure etc..
So again a crisis is simmering and everyone blaming one another.. the lenders blaming Greece for not putting in place policies for spending less and collecting more and the Citizens blaming Govt for making their lives miserable. (One can imagine the plight of Greek Govt being crushed between two walls!)
So what now? If Greece goes bankrupt or the leftist Govt. decides exit EU, Eu would be thrown in chaos and this will spread throughout the world as fresh debts would carry higher risk premiums, in general investor sentiments would be cautions and credibility of Euro as a currency would take a battering.
So how big is it? Lets firstly understand that Greek GDP is a tiny-tiny part of global economy and even in EU economy Greece is a very small part.
How are indian markets affected, two word answer "Not Much"!, unless @Sumit's -The Resident Bear of Stockadda :-) prediction of larger euro crisis whereby Portugal, Ireland, Spain or even Spain defaulting comes true. I'll paste my previous post in the Gupshup group on Stockadda:
The Greece issue has been largely been factored in the current markets, but people have funny ways of reacting to news when money is involved :-).
The reasoning or the logic is that FII will become risk averse after greece crisis and will pull their money out of developing (read:riskier) markets like ours. But i don't buy this argument as the ethos of investors is to make money and in the process of making money they will surely loose some.
So IMHO this is a short blip for Indian Markets, just sit tight and whether the storm in a teacup (As far as India is concerned)