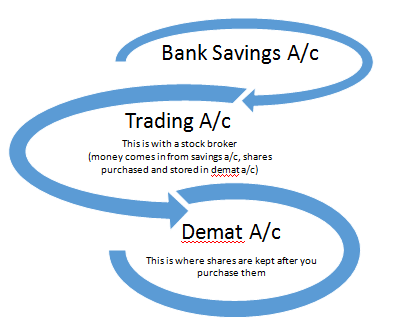 Both Demat Account, as well as trading account, have their own benefits in the stock market. This 2-min quick read extrapolates the impact and advantages of each type.
Understand the Basics
Depository Beneficiary Account is generally known as Demat Account. This account is like an electronic safe-lockbox to keep securities in the online (dematerialized) version.
Securities like Shares, Stocks, Equity Shares as well as bonds can be possibly contained in a Demat Account. Securities having (International Securities Identification Number) ISIN make it possible to be contained in a Demat Account even when it is not noted on any Stock Exchange.
Trading Account, on the other hand, is used for selling and buying whatever shares available as well as securities at renowned Stock Exchanges. This type of account can be started only by a Stock Broker or an investment broker. The Trading Account can be utilized for both trading purposes as well as the option of investment.
Differences between Demat Account and Trading Account
1. The opening of the Account:
Demat Account: By Depository Participant (very commonly known as DP)
Trading Account: By Stock Broker / Broker Member of recognized Stock Exchange
2. Purpose and Benefit:
Demat Account: To hold listed and unlisted securities electronically
Trading Account: To buy and sell shares and securities at recognized Stock Exchanges
Regulatory Body for both these types of accounts is the SEBI (Securities and Board Ex4hange of India)
4. Mode of Operation:
Demat Account: By the concerned client via an online version (internet login) as well as material instructions or even a Stock Broker through limited purpose POA (Power Of Attorney) given by the Client.
Trading Account: Electronically (Can be done through internet login), Conventional methods (such as telephone calls, Email, personal visit etc.). In this case, a Stock Broker cannot take POA (Power of Attorney).
5. Number of Accounts:
Demat Account: Multiple Demat Account with one DP with purpose
Trading Account: Only one Trading Account can be opened with one Stock Broker
6. Partnerships:
Demat Account: Single or jointly with another individual
Trading Account: Single only. Joint Trading Account becomes a partnership firm, hence not possible as individual
Demat Account: Partnership firm can no way make it possible to open in their name but, on the other hand, can begin in the name of either the partner/s for the benefit of partnership firm
Trading Account: Partnership firm can open Trading Account
So, now that the differences between a Demat Account and a Trading Account have been clearly explained here, it is up to you to decide which is best suited for you and which will make your life financially better in the long run.
Source: IndianShareBroker