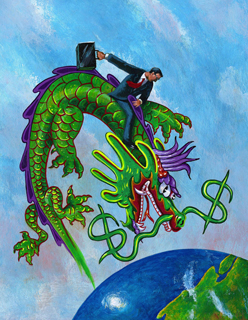 In Continuation of my Series "Layman's Explanation", in this blog I'll try to explain the Current Chinese stock market meltdown.
Chinese markets are the second biggest markets after US, but are yet not so matured as their western counterparts. Classifying their markets as extremely volatile would be an understatement, as 10% swings in a matter of hours is not uncommon.
Chinese people love betting and are known for their capacity to take serious bets. Las-Vegas loves Chinese high rollers, Macau survives on Chinese punters, now these people have invaded the local stock markets. And many of them have discovered Margin Trading. It is reported that 1.5 crore trading accounts were opened in May'15 alone!! Some estimates now say that 70-80% of stock market trading is now by retail investors.
Off-course its not possible that Foreign money keeps themselves away from such an opportunity, although the overall foreign direct investments into the markets is low (about 1.5% of total market cap), but this too in absolute money value is huge (Approx 180-220 Billion$).
With the above two heady mix of punters (I would not call FII investments in China as long term) had resulted in the rising of Chinese markets by over 110% in the Nov'14-June'15 period (110% in 8 months!!!!).
So in a scenario where markets run away from fundamentals, smart investors would start cashing out and this is exactly what has happened and the markets are collapsing at an break neck speed in since June. Figuratively speaking about 30% of market cap is wiped out in about 3 weeks (Imagine Nifty falling 2500pts or Sensex falling 8500 points in about 15 trading sessions). In value terms the market cap is down by Rs. 180 lakh crore ($4 Trillion)
To put it in perspective US$ 4 trillion is double India's total economy (just yesterday we were celebrating India's GDP crossing the $2 trillion mark), The money lost by investors is more than Germany or France or UK's GDP and almost equal to Japan's GDP !!!
Some might say, wait every bull market is followed by a bear market and moreover the Shanghai Composite is still up by 20% on a YTD (Year to date) basis. So yes this can be explained/digested as a mere correction. But is it so?
In my view this crash is mainly because of three fundamental factors
The Chinese markets were running much ahead of underlying fundamentals e.g the profit margins of the companies in China is going down progressively since 2009 and slowdown in the Chinese economy, rumored for many years, is becoming more pronounced. Furthermore there is little hope of recovery as Chinese economy largely depends upon domestic Infra spends & Exports to Western economy (Which themselves have growth issues)
Margin trading as a percentage of overall market capitalization have reached a record high. Chinese markets are largely retail investor driven and many of them got hooked to the lure of margin trading, this helped the markets go up and now with the markets in a tailspin the investors are struggling to meet margin calls.
MSCI has decided not include China A shares in its emerging market indices, this has resulted in Global investors exiting their positions in these stocks. What is MSCI you may ask, MSCI Emerging Market index is a key benchmark that is used by global fund managers to invest in emerging markets.
So IMHO, for the short term there is more pain of another 20-25% downside. As it is true world over most retail investors have herd mentality and this helps both in Boom & also in Bust.
In the current situation the mood will soon turn into panic and the snowball effect will kick in, unless the Chinese Govt intervenes. They have started to intervene as of now to control the downside (Taking criminal actions against manipulators, Restricting IPOs, Channeling pension money into the markets.. etc.. etc..). But there is very little evidence to suggest that any country can manage the stock markets.
Now coming to the million dollar question, what is it to do with us? would we feel the tremors?
well.. unlike Greece, we are more connected with China both in terms of trade and finance. (Think of ADAG/Reliance/Sahara... multi Billion China FI funded financing deals) so on both these fronts Indian companies and in turn Indian markets are going to be affected.
So how big is the affect going to be.. Again "Not Much". This is mainly because of three reasons
FIIs exiting China would have to park their money somewhere if they want respectable returns and what better market than India? with economy chugging smartly and most of it domestic demand fueled, and Govt. also increasing Infra sector spends.
Maybe the Chinese investors are sensing a much slower growth in their country and this is being reflected in the markets. So lower Chinese demand would result in lower commodity prices and in turn better returns for Indian Cos.
Indian markets have managed to stay relatively resilient to the current turmoil in Chinese markets and there is no reason to believe that they will not continue to remain oblivious.
Off Course there will be exceptions, who would be affected very negatively, for e.g companies in Active Ingredient, Iron Ore, Cotton, Raw commodity exports would see major downsides unless they de-leverage their reliance on China.
I thank all the readers for appreciating my earlier my earlier blog on Greek crisis and also to Nirav J for his facebook posts for my blog.
For further discussions please join my group Gupshup.

Happy investing!!