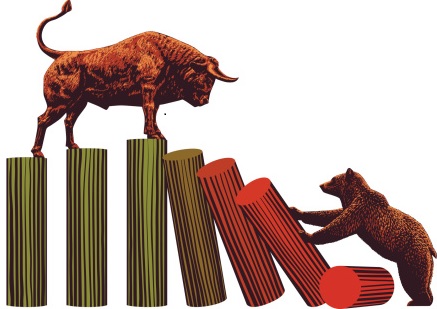 There are two ways to explain the general condition of the stock market, It can either be a Bear market or a Bull Market. No one knows where the terms Bull & Bears came into existence in reference to the stock markets, possibly because the Bull usually throws up its victims and Bear usually pounces down on its victim.

The term Bull Market & Bear Market are not connected with the short term ups and downs in the market. Bull and Bear markets are usually measured in years they describe long-term trends, not short-term changes. A 6-9 month spurt in the Sensex/Nifty cannot be termed conclusively as Bull Market, but it can be seen as a possible start/precursor to a Bull run. (So are we on the cusp of a Bull run..... ???.. I hope so)

Simply put a bull market is a continuously rising market where investors are positive and the economy of the country is on a growth trajectory with reasonable interest rates and low unemployment rates. It is easier to make money during bull markets, as we humans are more accustomed to Buy & then Sell rather than Sell & Then Buy.

Bear market is a continuous declining market and there is a lot of pessimism and investors tend to loose their confidence and the economy is seen in a slowdown mode with reduction in capital expenditure, High Unemployment rates etc...
But Bear runs also present a lot of financial opportunities to profit from. Short term investors can gain by shorting (Selling of the stocks not owned in the anticipation of further decrease in prices). And long term investors have the opportunities of picking up stocks at bargain prices.

To be balanced some stocks also gain during Bearish periods and conversly some stocks fall during bull run, so stock selection and company fundamentals can never be overlooked. So it can be said that for people like Warren Buffet Bull & Bear is just a state of mind.

Investment success generally hinges on long-term thinking; however, most investors can't help but worry about day-to-day shifts with their portfolios.
History has shown that the stock market always rises over the long term. Bear markets and crashes happen, but the market always makes a comeback and eventually rises higher than it ever was before. So always enter the stock markets fully ready and always remember :
"Bulls make money, Bears make money, but Pigs just get slaughtered!"