Now that you have finally decided to invest in the stock market but wait! There are thousands of stocks out there listed on NSE and BSE, how you are supposed to choose the right one to start your equity investment? Going through the P/E ratio, balance sheets of individual companies and income statements will not lead you anywhere. On the contrary, you will be wasting your precious time, that's all! Simply, seeking out to fund managers will also not help you since they tend to focus primarily on blue-chip stocks. 
Here, we're going to discuss some stock-picking practices for beginner investors who are out there struggling in picking the right stocks for their investments.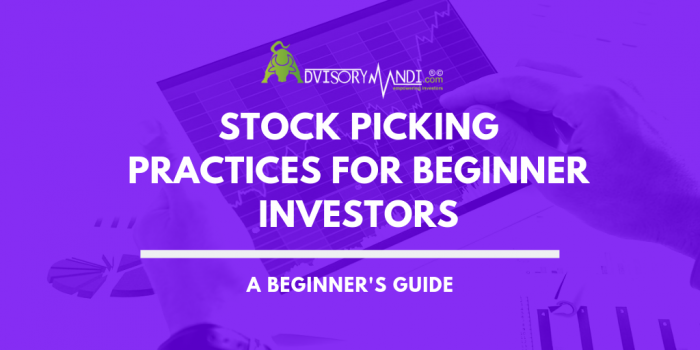 Set your Investment Goals
The first step is to determine your financial goals. What's the purpose of your investment portfolio? – Is it to generate income, wealth creation, capital preservation or capital appreciation requirement? Those investors who are looking to generate more income through investing in stocks tend to pick small-cap stocks that can generate high returns while the investors who have low-risk tolerance tend to focus on blue-chip stocks for their stable and steady returns.
In doing so, don't forget about diversification. Remember, figuring out financial goals is an easy part but to actually pick stocks is the where the complications arrive.
Stay Updated with the Market
It is important to stay with the market and ongoing events happening in the market. An informed investor is the one who stays current on market events. To do so, you can start using a stock market app that offers the features like latest news updates, market-moving events, and industry-wise updates etc. For instance, if the crude oil has increased in value, then what industry and stocks will affect most from this? Or how the latest rate cut by RBI will affect the stock you invested in?
With the analysis, the investor can pick stocks and deduce that with the current news, how the stock will likely prosper?
Search for Companies
The next step in the stock-picking process is to search for companies which you're potentially interested in. To do so, perform the industry analysis, use the screener to filter stocks based on industry, market capitalization, dividend yield, CAGR, and other investment metrics.
Don't forget. It is important to analyze both sides of the argument and take decisions after performing in-depth analysis and research.
Once you picked the companies, review the balance sheets, quarterly reports, financial statements, and other metrics that give you the general information of the overall performance of the company.
Conclusion:
At the end of your stock-picking process, you may find yourself with a bunch of stocks of ten or more companies. After your research, you can decide which industry will be right for your investment. Hope, these above practices will help you in picking the stocks that help you achieve your financial goals.
If you have any query or would like to suggest some other practice here then don't hesitate and let us know in the comment section below.