There are many share brokers in India. We can broadly classify them as traditional brokers and discount brokers. Traditional brokers provide other services like advisory also along with broking business. But they charge brokerage based on total transaction size of each trade. But discount brokers provide cheap brokerage. They will cap brokerage at a fixed rate. We will discuss some of leading brokers in India here.
Upstox is one of the leading discount broker in India with low brokerage and good trading platforms. Upstox is backed by Ratan Tata. Recently Tiger Global also invested in this company. It is growing very fast by building customer base. Their brokerage is 0.01 or maximum Rs.20 per order .
They provide some of the best trading platforms available in India. Their web platform upstox pro is equipped with almost all tools required for analysis. Check Upstox pro web
Their mobile platform is also very smooth and have all required features like good chart with many incators and drawing tools for analysis. Check it here Upstox pro mobile app
Their desktop software include Nest trader, Dart Stock and fox trader. All three platforms has its own special features. You can say upstox is a complete package with low brokerage and best trading platforms available for traders in India.
Account opening is upstox is free now. You can visit link given below, fill form and upload documents needed to open account. you account will be ready within few minutes.
Upstox also have good customers support. You can call, email and even chat option with customer executive is available in their mobile application.
Upstox account opening link : UPSTOX
Fyers is one of the new entrant in brokerage space, but their trading platforms helped it to gain popularity and grow fast. Their web platform is tradingview based. It has a lot of features which helps trader to make quick decisions. Its desk top platform is one of the best provided by any stock broker in India. It has a lot of feature required for intraday traders, and future and option traders.
Fyers is a discount broker with similar brokerage structure as upstox. Account opening is online and free. AMC or annual maintenance charge is also free in fyers.
Fyers account opening link : FYERS
Zerodha
Zerodha is number one broker in India. They are also discount brokers with similar brokerage structure as upstox. Their Kite platform is also good.
Astha Trade
Astha trade is a broker with many years of experience. Their USP is high leverage for trading. They charge brokerage based on transaction value. They provide maximum margin for trading in India. Current margin structure is
BankNifty future and Option selling margin on expiry Rs.2500/-
Nifty Future and option selling margin Rs.5000/-.
Equity Cash Intraday - 40x
Equity Delivery - 8x
Crude oil mega intraday margin @Rs2500
Asthat trade account opening link : ASTHA TRADE
Sharekhan
Share khan is one of the leading traditional broker in India. Their brokerage may be higher than that of discount brokers like upstox , zerodha of fyers. But those like traditional brokers can choose this one.
Best share broker in India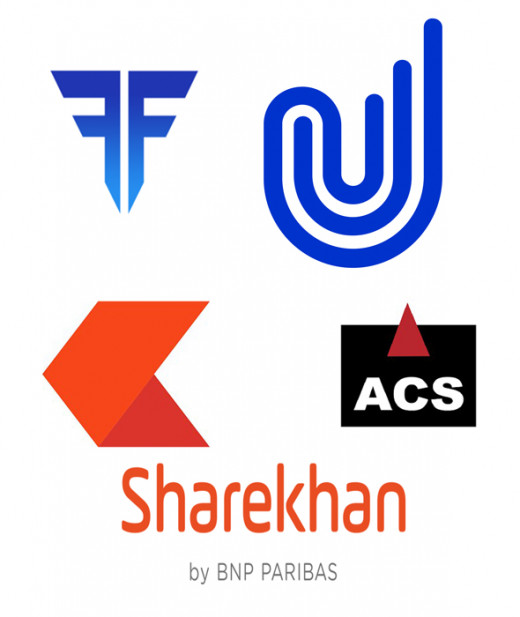 Best share broker in India
By comparing leading stock brokers in India, you might have seen that all brokers have its own special feature. It is best to select one suits our need. My personal choice is Upstox since it ticks almost all boxes and reliable as it is backed by some biggest investors.
Things to consider while selecting a broker
Brokerage.
Reliable mobile trading platform.
Desktop platform with all features needed.
web platform.
Customer care support.
Leverage ( Too much leverage is also not good )
Advanced trading features like trade from chart, bracket order cover order can also be considered.
Best broker for beginners in stock market
A beginner can look for a balanced mix of all these features. Low brokerage, good customer support are must.