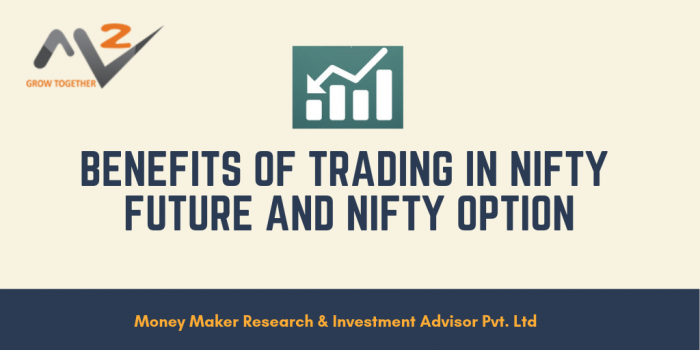 Nifty future and option extremely liquid contract and less risky as compared to stock. nifty option and futures trading gives benefits in many ways. One of the best advantage you can take free nifty tips from several sources.
1. Lower Spread - The spread means bid-ask difference, it is the rate difference in the quote of buyers and sellers. It is significant for traders, mainly those who apply scalping trade method. Lower the difference the lower will be the trading charges. As nifty futures and options are commonly traded, the bid-ask difference is almost better. So trading in nifty thereby provides you with better returns to buy or sell.
2. Well Diversified - Nifty Future is fully diversified. in nifty future, 50 stock consists form more than 10 different sectors. This diversification gives stability and therefore protects you when your view moves the wrong way. Also, this diversification supports us to see the high-level view of the market in near and longer term.
3. Fewer Margins - For nifty future, the margin needed to take a position is just 8%. when compared to stock futures needed an average 13% of margin is to get positions. Some brokers provide a trade in nifty future with just Rs.5000 margin for intraday positions. And also some broker gives nifty future tips.
4. Highly liquid Options - Due to the high liquidity in Nifty options, it becomes simple to research and take a trading call. You just require to analyze many Out-of-the money and In-the-money options along with open interest. These options can be managed for hedging against your long or short positions.
5. Hedge against Stock Portfolio - As Nifty doing a benchmark index and maximum of the stocks show the same trend. The stocks various likely follow the Nifty change, so it can be done as a hedging tool against your portfolio. But hedging is for big investor having big capital. So small traders can exit if the market becomes really dangerous.
6. Far Month Liquidity - As there is sufficient liquidity in far-month contracts of Nifty futures related to stock futures. It becomes simple to take a positional view by buying next and far month Nifty contracts. One can execute complex trading strategies using the long and short sequence on nifty future.