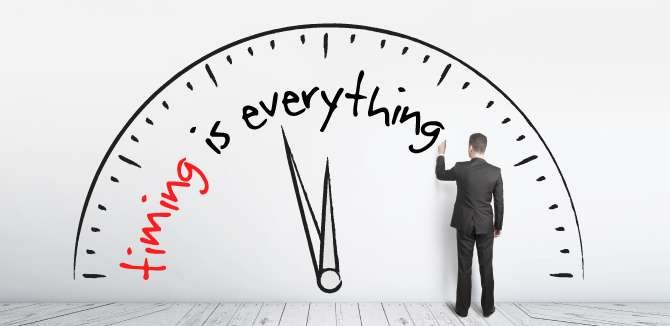 Timing the market:
First thing to keep in mind is that there is no such thing as timing the markets. Markets these days do not follow a trend that a common investor can realize or understand. Commonly yes, you can say that due a certain political or international event the markets may change up or down, but apart from that one cannot be sure of how much and when the markets will rise and fall. There will be predictions, calculations, analysis and what not but still you as a regular investor should not think of timing the markets. Instead if you want to start investing, start small, go for a fundamentally strong company that has performed consistently well in the markets for a long term and invest in it and then take it from there.
Following Tips:
If you receive tips and blindly put your money in it, be prepared for some rude shocks down the road. Yes, you may gain at some point but following tips can be terrible and there are more cases of people losing money than gaining by following tips. As indicated before, study the trend of the company and its foundation along with its performance on the market even when there was a down trend. If the slide is lesser than most other companies or the performance consistent, then you can invest in their shares.
Thinking you know it all:
Chances are you may have made good profits and since equity is known to give higher returns when the markets are good, you may stand to gain a decent amount of returns on investment. If you have been fortunate to gain on the markets by making some random investments, it is great for you. However, do not think that just on that basis you know it all. Share markets are complex and while nothing is impossible, understanding the markets will take considerable amount of time, knowledge, dedication and even then they will remain unpredictable. Biggest of market Gurus and Financial Analysts who appear in slick suits on your television daily giving their 'expert opinions' have fallen flat on their faces in the current market scenarios. So don't get overconfident and think you know it all. Stick to the basics and invest systematically.
Basic:  Invest with a Cool Mind, Don't Panic
Markets will fall, markets will rise, markets will stabilize, and they will correct themselves every now and then. This happens and will happen, so stay invested, if the shares you hold are fundamentally good and the proven over the past, you will get good returns. Don't panic and break your investment habit.
 Putting all your money in equity:
Last but not the least, do not put all the money you have for investment into shares. Diversify. Keep a balanced portfolio with a good mix of equity and debt as well as other types of investment avenues like Mutual Funds, PPF, FD, Recurring Deposits etc. If markets fall, you will loose all you have if you do not diversify. In worst scenarios when markets are bad your debt investments will at least give you some protection. So don't make this stock market investment mistake of putting all your funds into the stock markets hoping they will give fantastic returns. Don't be greedy.